A Few Words About Us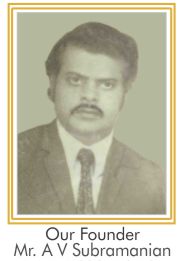 Shawn Travel Agents Pvt. Ltd. Approved by Ministry of External Affairs, Government of India - was established in the year 1978 by late, Mr. A. V. Subramanian. His dream was to form a company, which could provide professionals with experience in response to the growing demands of the industry.

Shawn Travel Agents Pvt. Ltd. ensures its clients of the best-fit candidates by offering "action" consultancy, post trade tests, interviews, screening etc. thus providing its clients a solid foundation for a better tomorrow. Our specialization plays a vital role in successfully operating "action" consultancy, which constitutes the consultant working along with the members of the host organization in matching professionals to the requirements of our client for a result oriented long term association.
Continuing on the path laid by the founder Mr. A. V. Subramanian, his son Mr. Sundeep Subramanian (Managing Director of Shawn Travel Agents Pvt. Ltd.) has carrying his father's legacy of professionalism, commitment and quality of service, to the next level by introducing Shawn Travel Agents Pvt. Ltd.to countries such as K.S.A., UAE, England etc. and by opening associate offices all over India, thus, increasing the boundaries of it's already existent network, to give faster and quality results to the clients.

Shawn Travel Agents Pvt. Ltd. belong to a select few of the elite brand of prestigious and reputed overseas manpower placement agencies from India, having a huge database of qualified, skilled/professional candidates in a wide variety of fields viz. construction, maintenance & operation of hospitals, airports, hotels, catering etc.

We have more than 40 years of solid professional background having successfully placed thousands of professional candidates throughout the middle-east to fulfill our clients smallest detail and requirement within the shortest possible time.